by
Horlamidey
10 months ago / 101
Reality TV star and social media socialite, Tacha Akide (Tacha) has taken to her page handle to air her frustration over the unnecessary bank charges she's been receiving recently.
According to the brand influencer and serial entrepreneur, she's been charged 12 times in the last 24 hours — she went on to add that she does not understand why she's receiving such deduction from her account within that short period of time.
She tweeted,
"What's with the unnecessary bank charges..? I've been debited 12X in less than 24hrs. I seriously do not get this, and to be honest I am taking a piss!!," Tacha tweeted.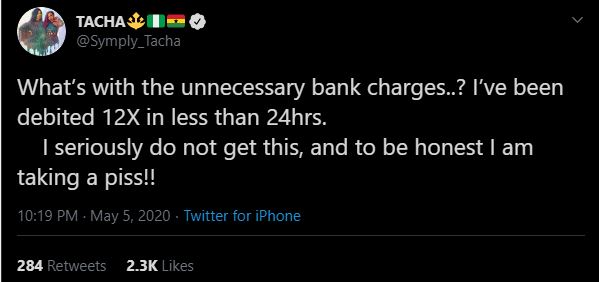 The lovely recently joined a league of others in praising Afrobeat icon, Wizkid following a hits face off his tracks were featured in recently.
Her praise obviously didn't go down well with some fans who took to Twitter to drag her for hailing the singer despite having a tattoo of Davido on her chest.
Related

Post